Services like Boku exist because the world saw the value in mobile phones. With online casinos in the UK, mobiles became a way to offer players the ability to play slots, table games, video pokers and other hit casino games while on the go. That also meant that in order to bet money and collect winnings from these casino games, players needed a reliable mobile payment method.
While a variety of services exist that allow you to pay by using your mobile at the casino, today we're here to talk about Boku. So let's dig in!
Our easy guide to using Boku will show you:
We list the best Boku casinos available for the UK market right here for your convenience. We include in-depth reviews on each of our recommended brands so you know exactly what you are getting. Feel free to click through or, if you prefer, you can simply click through our safe links to your preferred Boku casino right away. In the meantime, let's learn about the service.
What is Boku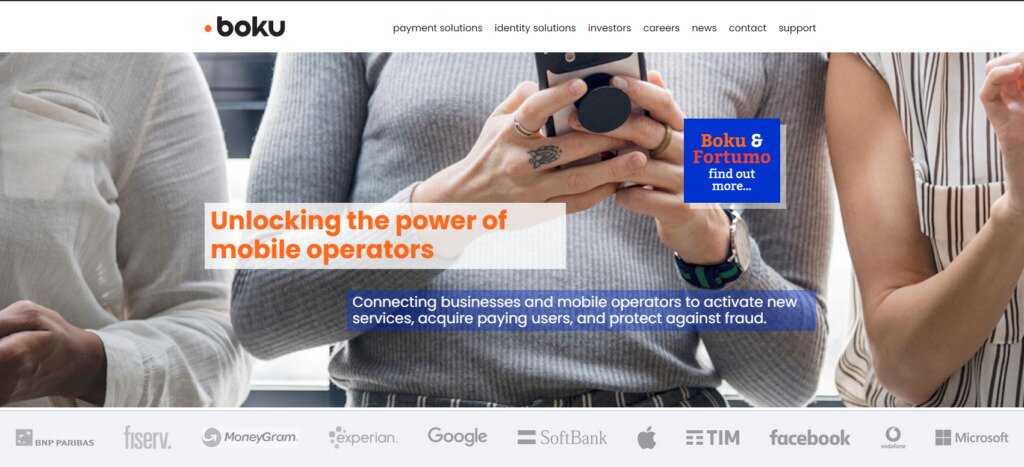 Established in 2009, Boku is a quick, simple mobile payment option based out of San Francisco. The company allows you to make a payment online directly via your phone bill. Most importantly, it is globally connected to over 150 different carrier networks. The Boku service is running in over 50 countries around the world, making it one of the largest pay by phone services anywhere. But how does it work exactly?
Boku quickly saw success with mobile users not wanting to pay online using their bank accounts. Most other online payment systems require users to link their accounts in some fashion. This gave Boku a leg up on the competition and became popular among new mobile casino users. It provided an opportunity to avoid traditional banking methods like credit card, bank transfer or even debit card.
We have found that users enjoy using this services because with Boku, mobile casino gaming is just as easy to fund as making a purchase at Amazon.
How it Works – How to Use Boku in 5 Easy Steps
Essentially, Boku allows its users to pay for goods and services (such as mobile slot games) simply by using their mobile phone number. Payment for goods and services purchased works through a billing process, whereby the user's phone account is billed. There are two ways you can use Boku to fund your online purchases or make quick deposits at Boku casino sites:
Pay as you Go – If you prefer to be free of any contracts and use a pay as you go phone, you can still use Boku for your mobile casino games. When you make a deposit to Boku casinos, the amount you are depositing will be automatically deducted from your existing air time (call funds). You do not have to purchase any additional or separate funds, tickets or any other payment formats through Boku.
Contract Payment – This option is for mobile users who prefer to go the contract route. It is similar to funding Boku casinos with a prepaid phone. However, the key difference is how you are billed. While prepaid Boku users will have the amount automatically deducted from their existing prepaid account, contract users will have the amount added to their monthly contract billing. You will clearly see your Boku purchases reflected on your monthly billing statement.
As you can no doubt see, both methods share a common element of speed and convenience. They are both straightforward and easy to use. It really just boils down to which system works best for your needs or, which system will best slot in with your current mobile phone habits and preferences.
Making a secure deposit using your mobile at a pay by Boku casino is very quick and easy to do. In fact, the entire process can be completed in well under a minute. One of the main reasons why Boku is so fast and easy is that it uses a proprietary 1-Tap Payment process, ideal for one-handed mobile payments on the go.
To get your feet wet with Boku, we've compiled a quick step by step guide to show you just how easy the entire process really is.
On the mobile casino deposit screen simply click on "Pay by Mobile" to initiate the process
On a second screen, simply enter the amount that you would like to deposit
Enter your mobile number
Wait for the text message which authenticates your payment request
Confirm the request (no charge involved)
One of the biggest advantages to the Boku mobile payment system is that it is very easy and convenient to use. In fact, after the initial set up period, using Boku on a daily basis is so easy, you could do it in your sleep.
Who Can Use Boku?
Anyone over the age of 18 with a mobile device can use Boku as an online payment service. However, that will only work if you are on one of the phone networks that work with Boku, like Vodaphone, O2 and T Mobile. If you tick those two boxes, then you can safely use it to make deposits into your account at a mobile casino.
From device compatibility standpoint, Boku will work on just about anything. It doesn't matter if you're on a phone, tablet, desktop computer or even a smart TV. Crazy, we know! All you need is a secure, reliable connection to the internet and you'll be playing mobile casino games for real money in no time.
So in other words, if you love to play at the best slots sites on your mobile device, then Boku may just be the perfect payment solution for you. What's even better is that our team here specializes in finding Boku casinos for UK-based players.
Pros and Cons
As with any online product or service, there are bound to be a few pros and of course some cons. Of course, using Boku to pay by phone is certainly no exception. Fortunately, Boku has far more pros on its side than it has cons.
Pros of Boku
Safe and convenient
Easy to use
Works on any mobile phone
Works on tablets, computers and even smart TV's
You do not need a bank account or credit/debit cards to use Boku
Huge list of Boku deposit casinos available
Cons of using Boku
Deposit limit is quite low at just £30 per day
Fixed (predetermined) deposit amounts only
Cannot be used to withdraw winnings
Not all casinos offer good bonuses for Boku users
How You Can Find Top Boku Casinos in the UK
Finding the best Boku casinos in the UK may seem like a labour-intensive and time-consuming process and that's because it is. Fortunately, you are already at the best place to find the UK's top Boku casinos.
Our team of Boku casino experts are working tirelessly to create and maintain the UK's most extensive list of mobile casinos that accept Boku. Slots site or otherwise, any new or pre-existing Boku casinos that we recommend in our list have been thoroughly vetted and checked for safety, reliability and overall gaming experience. So, if you end up playing at one of these operators, you can do so with absolute confidence.
We have spent many hours trawling the internet to find the best mobile payment options so you don't have to. This is why we have listed all of the top mobile casino brands that accept Boku as a preferred payment method. Now you can use Boku, and just make a deposit at the casino using your phone number. It's quick, safe and conveniently only takes seconds.
BOKU FAQ
Is Boku safe to use on my mobile device?
Yes, it is. Boku supports various mobile networks in order to process mobile payments and all of these networks are very heavily regulated. There are a number of industry regulatory bodies, including organisations in the UK such as PhonePayPlus, which regulate phone payment services. There is also the independent UK communications regulator Ofcom, mobile network trade association AIME, and others.
Can I use Boku to withdraw my winnings?
Unfortunately not. This is mainly to do with how pay by phone actually works. Since you are being billed, either on your pay as you go account or on your mobile contract, there is no way to add additional funds (your winnings) to that process. In order to withdraw your winnings, you will need to employ an additional payment option, such as an eWallet, bank transfer or any of the other accepted withdrawal methods offered by your mobile casino.
Are deposits through Boku unlimited?
No. If you want to play any casino game for real money, you can make quick and safe deposits using your mobile device. However, currently, Boku limits deposits to £30 per day and only offers predetermined amounts which you cannot modify.
Can I use Boku on any operating system?
Yes, you can. Boku uses your network and not your operating system to make secure online payments. As long as you are with one of the many mobile phone networks that Boku has partnered with, you will be able to use the service.